Droitwich church will be combined with community centre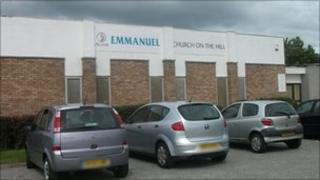 A church in Worcestershire is going to be re-built as a community centre.
Emmanuel Church in Droitwich was purpose-built in the 1970s and stands next to the current community centre in Blake Avenue.
Malcolm Wood from the church said the time is right to improve the look and purpose of the building.
He said: "For us to deliver a brand new, up to date well-designed facility for the neighbourhood is going to be a benefit to all of us.
"There'll be more flexibility, the heating bills will be less so it'll be easier to maintain and more efficient and effective."
The church is already used as a community space for some activities but will move into the ground floor of the current community centre.
Mr Wood said the congregation hopes the refurbishment will prevent the building from being a target of vandalism.
He said: "We've had to wire up the windows - it's not just unsightly, we're having to replace them almost weekly."
The new design will mean the building is more secure.
Mr Woods said: "We've consulted the police and security companies who know a lot about this and they've given us lots of advice - it's called secured by design."
The congregation has been planning the re-build for a number of years.
"I think it's been about 10 years on our minds and you set targets but there are always delays so we certainly won't be turning any soil over this year."
It is hoped the new church and community centre will be ready in 2013.