A Worcester group is celebrating 70 years of writing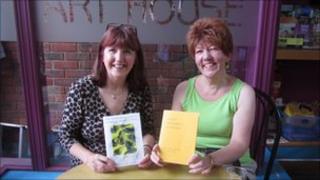 They survived WWII and their numbers have dwindled and grown over the years but a Worcester writing group is claiming the title of the longest continuous running group of its kind.
The Worcester Writers' Circle marks its 70th anniversary on 26 June.
Sylvia Herbert, the current chairman, said that if they were not the oldest group they were certainly the most resilient.
She said: "There may be one or two that started earlier but founding member Gladys Bradley wasn't going to let Hitler get in the way of their group."
According to the National Association of Writers' Groups, the Worcester branch is the only circle to have consistently met without long term interruption since it was founded in 1941.
The circle currently has 29 members that vary in age from university students to people in their 70s and 80s.
An anthology of work from current members called The Unbroken Circle is being published as part of the 70th birthday celebrations.
Ms Herbert, who joined in 2008, said the group meets twice a month: "We're for anyone interested in writing where people can bring their work, read it to others and get it critiqued.
"It's very useful to have people who know what they're talking about listen to your work - I've been encouraged by that because you don't think your own work is worthy and it's nice to hear that people appreciate it."
Memory trees
Lynne Hackles, now an honorary member of the circle, is a professional writer who joined in 1980 before becoming the third secretary in 1981.
"When I first joined I was the baby of the group, there were lots of professional writers back then - the founder members and older members gave me a lot of advice," she said."
Ms Hackles said other former members include current Donna Baker - who now writes under the name Lillian Harry - and John Mayall, father of comedian Rik.
She said: "Rik's dad turned up because we ran a competition when we'd dwindled down to five members - one of the prizes was a year's free membership.
"John was a great asset to the circle and he was president for a while."
Ms Hackles said the group plants a tree in memory of each member that dies: "We'd got quite a forest by the time I took over as secretary.
"I do remember Gladys phoning me up one day saying: 'I haven't got a tree' and I said: 'well you've got to die first before you get one'."
The Worcester Writers' Circle is celebrating its anniversary at The Art House Cafe in the city centre on Sunday, 26 June as part of the Worcestershire Literary Festival.