BBC Your Paintings campaign reveals hidden art treasures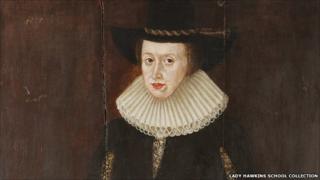 A BBC website is giving access to an art collection of 200,000 oil paintings, held in public institutions.
In Herefordshire and Worcestershire paintings from museums, a comprehensive school and the West Mercia Police headquarters are on show.
Although they are owned by UK publicly funded organisations, 80% of the paintings are not on display.
The BBC has worked with The Public Catalogue Foundation and collections across the UK, to launch the website.
The Your Paintings website brings together all these art works, with the stories behind them, and gives details of where to see them for real.
Art darts
One art treasure was discovered at the Lady Hawkins School, Herefordshire, where it had been treated less than respectfully.
This early 17th century portrait was reputedly found in a shed in the 1970s.
It shows the founder of the school, Lady Hawkins and her decidedly sober appearance which led to her being a favoured object for target practice when the boys were playing darts.
Now suitably restored to dignity, she resides in the school lobby, casting a careful glance over visitors and students alike.