Dyson Perrins school in Malvern helps produce sculpture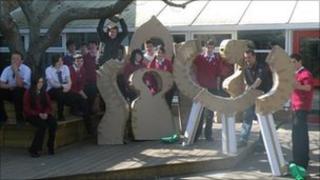 Students at a Worcestershire school have worked with a sculptor to produce a piece of public art.
The sculpture, which includes concentric rings, is designed to reflect research into radar which took place in Malvern.
It will stand at the centre of a housing estate built on a former Ministry of Defence site.
Sculptor John Merrill worked alongside students from Dyson Perrins Sports College to produce the finished design.
Malvern Hills District Council is asking people to comment on the proposed sculpture on their website..