Hartlebury Common fences pulled up in ownership dispute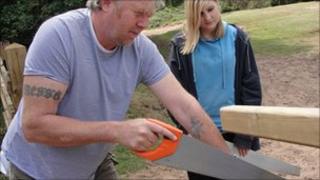 Fences have been torn up and a gate sawn down by a campaigner opposed to plans to introduce grazing on a common.
Hartlebury Common is owned by Worcestershire County Council which has a legal duty to manage the vegetation.
Campaigner Steve McCarron said he took the action because the council had no right to assume ownership of common land.
The council said it was taking legal action to prevent "acts of vandalism in the future".
Mr McCarron said the common was a public space protected by laws going back to the 11th Century.
He has challenged the council to try to get an injunction against him in a higher court and prove it has "the right of authority".
The council said that after a public inquiry in July 2009 it was granted permission to fence Hartlebury Common by the Secretary of State.
It said it had worked closely with Natural England, Central Government's advisor on conservation and access to countryside.
It advised that reducing tree and scrub cover and reintroducing grazing was the best way to meet its legal duties.
Andy Maginnis, Worcestershire County Council's Countryside Manager, said the council was "shocked" by the damage.
"We are working closely with the police and are taking legal action through the courts to help us to protect this special place against any such acts of vandalism in the future," he said.
West Mercia Police said they are "aware of the issues" but that no warrants have been issued.
Hartlebury Common is protected by law as a site of Special Scientific Interest.