Hereford foot and cycle bridge plans submitted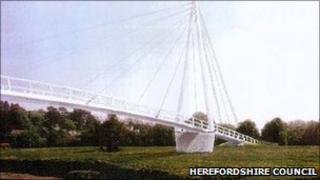 Plans for a new foot and cycle bridge across the River Wye in Hereford have been submitted for approval.
The bridge at Outfall Works Road is part of a new walking and cycling route called the Greenway running across Hereford city to Rotherwas.
The council said they expect the planning process to take 16 weeks.
If the application is approved work on the Greenway should be completed by the end of 2013.
The route will be made traffic free by using a railway underpass into the Rotherwas Industrial Estate and the line of a dismantled railway.
The scheme is part of an expansion of the National Cycle Network being co-odinated by the sustainable transport charity Sustrans.
Nationally Sustrans was awarded £50mi from the Big Lottery to fund 79 schemes.
Part of this grant, together with funding from Herefordshire Council, will be used to deliver the Hereford scheme.