Worcestershire workers in pensions rally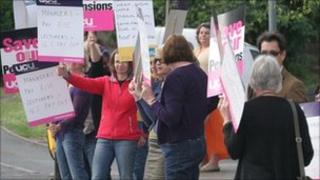 About 150 people have attended a rally of teaching and public sector unions in Worcester over the government's plans to change pensions.
Members gathered near St Peter's Baptist Church to listen to speakers and raise their concerns.
Others took part in action outside Worcester College of Technology in Copenhagen Street.
Gary Moses, a union representative for ATL, said he thought the dispute would "escalate" in the future.
He said the pensions issue was "very important to our members and the people involved."
The Association of Teachers and Lecturers and the National Union of Teachers said government plans would mean members working longer for less.
Members from the Public and Commercial Services Union manned the picket line outside the Defra in Wittington.
On Wednesday Prime Minister David Cameron praised teachers at Vaynor First School in Redditch for "doing the right thing" and deciding not to strike.
Up to 98 schools in Worcestershire and up to 22 schools in Herefordshire were closed or partially closed.