'Ghost runner' statue campaign started in Herefordshire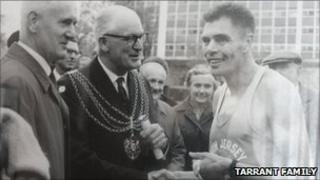 He was a world record holder in extreme distance events, but what do we know about the man nicknamed the ghost runner?
John Tarrant, from Hereford, was banned from athletics meetings in the 1950s because he once won £17 as a teenage boxer.
He gatecrashed events and after he jumped from the crowd to run in the 1956 Liverpool marathon the Daily Mail asked: "Who is the ghost runner?"
After his ban was lifted he set world records at 40 and 100 mile distances.
There is already a road named after him in Hereford, but one councillor has called for a statue to be erected to him in the city.
Councillor Nick Nenadich wants local athletes to get in touch with the city council to see if more can be done in his memory.
Mr Nenadich said: "People of Herefordshire are not very good, in my opinion, at flag waving and there a couple of people who we've been fortunate enough to have amongst us who are really world class athletes for their time.
"Perhaps this [statue] would be a way of acknowledging that, rather belatedly."
Sarah Waldron, from Puddlestone, was part of the British team who won gold at the European under-23 cross country championships in Portugal and has trained with John Tarrant's brother, Victor.
"It just inspires me so much because John was such a great runner," she said.
Mystery runner
John Tarrant worked as a caretaker at the Territorial Army centre in Hereford where he was allowed to run in the mornings.
He regularly ran 30 miles (48km) before work in shoes he adapted himself.
He even used to glue rubber to the bottom of the shoes to make them last longer.
Despite his obvious talent and enthusiasm he was never able to compete in official meetings, because he had declared a cash prize he had won as a teenage boxer.
The Amateur Athletic Association (AAA) ruled that this made him a professional, and banned him from all domestic and international competitions for life in 1952.
He would still turn up at meetings unannounced and compete without an official number.
Victor Tarrant, who still coaches athletics, used to take his brother to meetings on the back of his motorcycle.
"He'd have a cap on and an old mac over his running kit and when the gun went he'd allow them about 10 or 15 seconds, so that they could see that he'd started at the back of them," he said.
Ultra distance
His official ban was eventually overturned for domestic events in May 1958, and he came second in the AAA Marathon Championships in 1960.
However, he was still banned from international competitions, and so was unable to compete in the Rome Olympics.
He went on to take part in international ultra distance events, including 24-hour and seven-day races.
He died in 1975 at the age of 42 from stomach cancer.