Tenbury bridge closure brings fears for local traders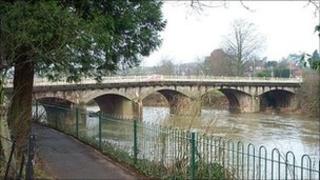 Traders in a Worcestershire town fear the closure of the river bridge will hit their businesses.
The historic Teme Bridge in Tenbury Wells is to be completely closed in 2012 for essential maintenance.
Sadie Chalkley, the President of Tenbury Chamber of Trade, is concerned that shoppers will find another place to go during the closure.
"Once you've lost them you've very often lost them for ever," she said.
In a letter to people living in the town the Mayor of Tenbury, Elizabeth Weston, said the bridge's unique character meant complete closure was "the only option".
The bridge is a designated historic monument and parts of it date back to medieval times.
It was repaired and widened in 1908 but Worcestershire County Council said this work had begun to deteriorate.
Councillor Tony Penn, who represents Tenbury on Malvern Hills District Council, said speed would be of the essence once the work started.
"I'm suggesting that necessary work goes on 24/7 so that traffic can once again get into Tenbury," he said.
Steering group
Ms Weston said that partial closure, as happened on the Holt Fleet bridge over the River Severn, built in 1828, was not an option.
She said: "The work there was primarily on the underside of the cast iron bridge arches.
"The Teme Bridge is a much older bridge with stone arches and requires a very different approach."
A steering group will look at how the closure will affect the emergency services, school transport and local businesses.
The next nearest bridges across the River Teme are at Little Hereford, three miles upstream and at Stanford Bridge, nine miles downstream.
There will be a temporary footbridge, wide enough for prams and mobility scooters, across the river while the work is carried out.