Webheath eco-friendly vicarage hits highest green standards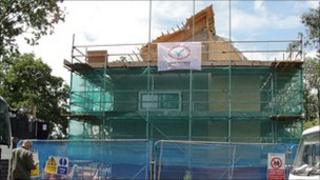 An 'eco-vicarage' in Webheath near Redditch is thought to be one of only two in England.
The building opposite St Philip's Church is intended to meet the true zero carbon standard.
Mark Wild, surveyor for Worcester Diocese, said it was another way for Christians to care for the planet.
He said: "We're stewards of it - the church needs to lead the way and show that we're serious about this.
"We can build in this particular way and we can build responsibly and still provide a good standard of living for people that live in the house."
Mr Wild said it was in keeping with the long term plans of the Worcester Diocese.
"The diocese as a whole has got an environmental policy to reduce its carbon foot print by 80% before 2050 - we're trying to design things that are going to help that."
He also said the project is costing around £500,000 but in the long term will save thousands in energy bills.
"We rely purely on solar gain and heat generated by people in the building and to make that work there's a lot of insulation that goes in the floor, in the walls and in the roof," said Mr Wild.
According to Dr Stephen Ball from low carbon consultants Couch, Perry and Wilkes, there are only 20,000 buildings in the world - most of them in Europe - that meet the same 'green' criteria.
He said: "The design to which this is being built to, has been in Germany for over 20 years but in the UK there are only a few."
It is thought the Redditch vicarage is one of two being built in England to the same environmental standards - the other is near Dudley in the West Midlands.
It is hoped the building will be ready for the vicar and his family in October.