Kay's catalogues give a glimpse of changing fashion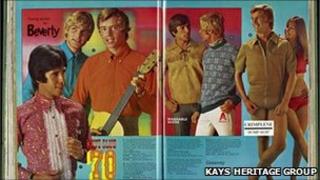 More than 100 years of shopping catalogues are being used to document changing fashion and lifestyle tastes.
The University of Worcester project is studying images from a collection of Kay and Co Ltd mail order catalogues dating back to 1894.
A website is being launched showing 1,500 images from the catalogues.
Jenni Waugh, the project manager, said the collection is important because the catalogues were aimed at "working people not glamour goddesses".
Ms Waugh said the public will be able to add their own photographs and memories to the website.
She said: "We want people to look at the images and to tell us what they remember of the outfits.
"Frankly some of the outfits are so bizarre that I can't imagine anyone wearing them, but I bet there's someone out there who did."
Celebrity models who appeared in the catalogues included Anita Harris, Pat Phoenix and Carole Smillie.
Kay and Co Ltd was one of Worcester's biggest employers until it ceased trading in 2007.