Rare wildlife in Dymock Woods protected by new ponds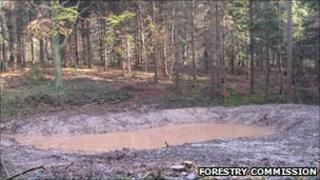 New ponds have been dug in a Herefordshire wood to help the survival of rare and protected wildlife.
A lake was created at Dymock Woods, near Newent, in the 1970s but non-native carp were illegally introduced, threatening native species.
Kate Wollen, from the Forestry Commission, said they hope rare species including great crested newts will breed in the new ponds.
The ponds will also help to protect wildlife from summer droughts.
Dr Pascale Nicolet, Pond Conservation's national co-ordinator said: "Making new clean water ponds is one of the best ways of quickly and cost-effectively improving the freshwater resource for wildlife."
The creation of the new ponds is part of a four-year programme co-financed by the charity Biffaward, and conservation organisations including the Wildlife Trust and Plantlife.
Dymock Woods are an ancient woodland site of 506 hectares (1214 acres).
Half of the trees are conifers, and the remainder are broad-leaved trees, largely oak and beech.