Dorstone Hill Neolithic sites dug by multi-national team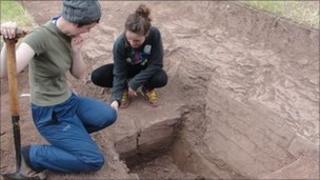 Three Neolithic sites in Herefordshire are being investigated by a multi-national team of archaeologists.
The digs at Dorstone Hill and Bredwardine involve experts from Kyushu University in Japan, the University of Manchester and students from Sweden, Germany and Spain.
County archaeologist Dr Keith Ray said they wanted to know why people built earthworks and chambered tombs there.
"It's really a national question why they did it," he said.
The archaeologists are looking for settlements that were first suspected to be there in the 1960s.
The excavations on the hill top sites have so far found flints and pottery, as well as traces of a dry stone wall and a line of timbers.
Dr Ray said other information had been uncovered from local people.
"Even while we've been excavating here the locals have brought up photographs and have told us about stone axes which have come from different parts of the country and have been found locally," he said.