Worcestershire flood early warning scheme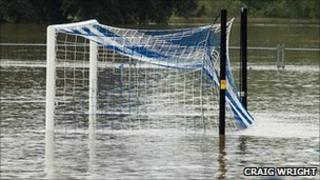 A new flood early warning system is being introduced in parts of Worcestershire.
Wychavon District Council is installing monitoring equipment at 10 sites in the area.
In July 2007 about 1,600 properties were affected by floods, and the council has been involved in a programme of alleviation works.
The latest scheme uses a combination of equipment including cameras to monitor water levels.
'Better prepared'
The council said if the monitoring system detected a sudden rise in levels, it would automatically send a picture direct to the flood team and alert them.
Councillor Emma Stokes, Wychavon executive board member for the environment, said: "Back in 2007, the sheer speed at which the flood arrived was a big part of the problem. We've invested in these early warning systems so that our residents will hopefully not be caught out again.
"We'll be able to warn them that the floods are coming and that means all of us will be better prepared, with more time to get measures in place, move vulnerable residents to safety and take other steps to protect people and property."
Wychavon District Council said it had invested almost £1.3m in flood alleviation works since 1998.
The early warning system, which is already in place at six sites, is costing £28,000.