Worcestershire day care centre costs to rise by £60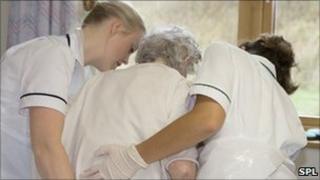 Social care costs will rise by up to £400 per month in Worcestershire for people who have more than £23,000 in savings or earnings, the council says.
Worcestershire County Council said the Spending Review meant it had to save up to £70m within the next four years.
People charged £4.60 per week for day care centres will be charged £65 per week from January and more for meals.
The council said that was the "true cost" of the services and charging more for them was better than stopping them.
Ron Chambers, chairman of the Worcestershire Pensioners' Action Group said: "[We're] totally disgusted. The increases they are talking about are absolutely astronomical and the only reason we can think of for this is they're looking towards privatisation."
Privatisation plans
Eddie Clarke, the council's director of adult and community services, said it was moving towards privatisation because that offered better value for tax payers' money.
The Conservative-run council currently spends £120m out of its annual budget of £300m on providing social care services.
It said it had already made back office and management savings but further cut backs were needed.
Mr Clarke said: "What we are asking is that people pay the true cost."
He said means-testing charges would reduce the gap between those who used council funding to arrange their own care and those who received subsidised services directly from the council.
"Is it fair that the council subsidises services for some people and not others, absolutely not," he added.
The council estimates that about 900 people will be affected by the additional charges.
"About three quarters of people won't be affected by this, or indeed may be better off. So whilst it's important to acknowledge that its nearly 1,000 that will have to pay, the majority won't and therefore we think it is fair and reasonable and equitable," Mr Clarke added.