Kidderminster pupils stage look-alike tribute to teacher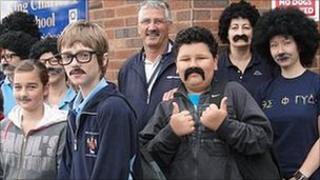 A Worcestershire teacher who is retiring after 35 years was "gobsmacked" to find pupils had dressed up to look like him on his last day.
Phil Wood was described as "a PE legend" by past and present pupils at King Charles I School, Kidderminster.
Pupils copied his trademark look, described by Mr Wood as "a great big afro, moustache, track suit and a tie hanging out of the pocket".
He said that over the years "teaching has changed but children haven't".
Mr Wood taught at Sladen Middle School in Kidderminster for 31 years until it was closed.
He then moved to King Charles I School where he was head of year eight.
Head teacher Tim Gulliver said pupils were also using the occasion to raise money.
"What we've tried to encourage the children to do is not to just dress up but to bring in a donation for a charity of Mr Wood's choosing.
"We're hoping to raise a lot of money for the British Heart Foundation," he said.