Claude Choules: Campaign for Pershore war veteran memorial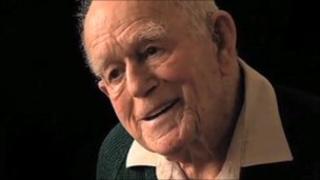 A British relative of the last known combat veteran of both World Wars has asked for a memorial to be created for him in Worcestershire.
Claude Choules was born in Pershore in 1901 and served in the Royal Navy onboard HMS Revenge in 1917.
By the outbreak of WWII he had joined the Australian navy and served as both a torpedo and demolition officer.
He died in May aged 110. A relation, Melanie Gray, has asked Pershore Town Council to honour him in some way.
Ms Gray said she discovered she was distantly related to Mr Choules on her father's side when she was researching her family history.
Distant relative
She said: "It was a suggestion I put forward to the town council as an idea that a street could be named after him.
"I was doing my family tree and discovered he was related to a distant cousin of my dad's.
"I thought it would be quite nice to have a street named in his memory."
At the opening of an armed forces memorial garden in Pershore, in May, the Lord Lieutenant of Worcestershire, Michael Brinton, said: "We should all remember the sacrifices of people who fought in the wars and Claude is the last of those from the First World War."
A spokesman for the town council said it is due to make its decision about a permanent memorial to Claude Choules on 8 September.