London 2012: Tony Larkin, GB blind football team coach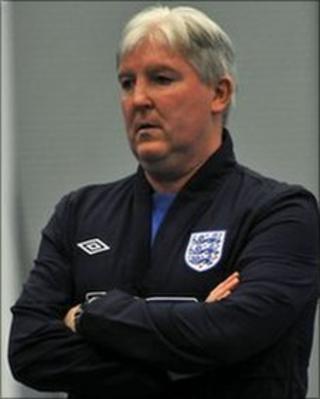 The coach of the Great Britain blind football squad for London 2012 has said this is "the best squad of players" he has ever worked with.
Tony Larkin works at the Royal National College for the Blind (RNC) Hereford.
His current challenge is to cut his squad down from 14 to eight players.
"We've got an age range from 17 years old up to our most senior player Dave Clarke, who's played 120 odd games, who would be 40 if he plays in the Paralympics," he said.
At the moment the Great Britain team is ranked second in Europe and fourth in the world.
He said: "We use the benchmark of Brazil and at the moment we are behind them - they are the world and Paralympic champions.
"The biggest difference is we've got a league with six teams, they've got a league with 86 teams, and the players and the coaching staff are full time."
His side will have plenty of opportunity to test themselves against the best sides in the world between now and London 2012.
"We are off to a competition in Spain at the end of August where we are playing against Spain, Turkey, Italy, Argentina and Brazil.
"Then we've got the European championships in Turkey," he said
Follow Tony and his players in their quest to overtake Brazil as the best side in the world over the next 12 months in his Olympic diary.