Wojciech Jasinski: CPS explains bones trial collapse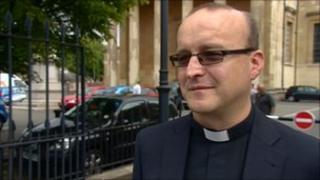 A case against a priest accused of moving a corpse was dropped because "it could not be proved the bones were human".
Father Wojciech Jasinski, of the Marian Fathers, had been accused of illegally moving the bones of a 14-year-old Polish boy in Herefordshire.
The case was reported by a member of Witold Orlowski's extended family.
The Crown Prosecution Service (CPS) said after legal arguments it could be not proved the bones were human.
On Thursday, the trial against him came to a halt when a judge at Worcester Crown Court decided there was insufficient evidence for a jury to convict the priest.
He had been charged with illegally removing a corpse from a grave.
'Mother's wishes'
West Mercia Police said they had been contacted on 11 February 2010 by a member of Witold's family.
His remains had been buried at the former St Raphael's Convent in Bullingham, Herefordshire, where his mother had worked after World War II.
She later moved away to Henley-on-Thames and, after she died, Fr Jasinski said he had moved Witold's remains to be with her, as she would have wished.
"The main reason I decided to make the removal was to fulfil the wishes of the mother, to make her happy," he said.
A police spokesman said that after investigating the case they had passed on the evidence to the CPS.
Catholic hero
Peter Tooke, senior district crown prosecutor for West Midlands CPS, said the service had been satisfied there was enough evidence to prosecute for an offence of removing a corpse from a grave.
"The court heard legal arguments in a defence application to dismiss the case and the prosecution's reply, during which the description of the remains was referred to.
"Having heard these arguments, the court dismissed the prosecution case on the basis that we could not prove that the remains were human."
Witold became a hero among members of his faith after he and his mother escaped from Poland during World War II and travelled to Mexico.
While there, Witold encountered a sick priest, Jozef Jarzebowski.
Witold prayed to God to take his life rather than that of the priest. He died and Fr Jarzebowski lived, eventually moving to Herefordshire.