Bra chain record attempt called off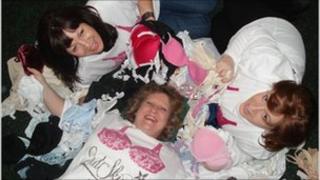 A world record attempt to link thousands of bras had to be called off when the underwear became too tangled.
Organisers said the bras had been packed neatly into boxes but when they tried to pull them out they could not be separated quickly enough.
They had hoped to beat the record of 166,625 bras linked together, stretching more than 100 miles, several times around Worcester racecourse.
Organisers of the charity event have said they will make another record bid.
Karen Tomalin, one of the founders of the Bra Chain group, said: "We couldn't get the bras out quick enough.
"Like Christmas lights you put them away nicely but when you go to get them they don't come out."
She said there were also not enough volunteers to clip all of the bras together quickly enough, but even if there had been hundreds they would have probably still run out of time.
"It is a bit bittersweet. It is just something we have got to get over."
Ms Tomalin, of Bromsgrove, Worcestershire, said they would aim to make another record attempt within six to eight weeks and said people could still donate bras.
Each bra is sponsored and will be recycled or given to Women's Aid.
Other charities that will benefit from the money raised are Breakthrough Breast Cancer and Worcestershire Breast Unit Campaign.