Blind Hereford student positive about life without sight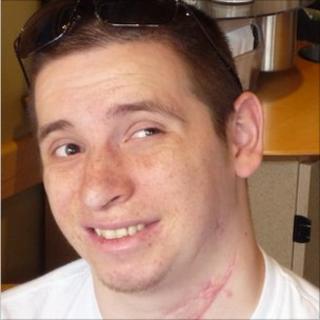 A young man from Hereford who was left blind after being attacked on a night out has returned home after spending a year in hospital.
Jack Hewett, 22, was stabbed in the neck with a glass bottle last August when his heart stopped four times, he had a stroke and was unconscious for five weeks afterwards.
He was also been left with a brain injury which affects his movement and has been recovering in Frenchay Hospital in Bristol.
Mr Hewett said it has been a challenging year and he was glad to be home.
"It's been slow but I've made lots of friends in hospital - but such a relief to go back to the real world."
Mr Hewett's attacker, 21-year-old Ashley Preece from Hereford was sentenced to life imprisonment in February for causing grievous bodily harm with intent.
'Matter of fact'
Thinking back to the attack, Mr Hewett said he tried not to get angry.
"Sometimes I get a bit temperamental but having a brain injury means everything goes a bit haywire at times."
His father Trevor said his son's matter of fact attitude had helped him cope with the life-changing event too.
"I've suppressed what anger I could be demonstrating because, like Jack, I've been thinking 'let's just get on with it' and concentrate on his recovery."
Part of that recovery has involved Mr Hewett, spending one day a week at the Royal National College for the Blind (RNCB) in Hereford.
He said: "I've been doing mobility training so I'm concentrating on my white stick and learning a bit of braille, which I love.
"The IT part has been pretty good - I'm used to seeing the keyboard but a bit of Blu-tak means it's easy to remember what the keys are.
"It's actually surprisingly easy to adapt - if I can do it anyone can do it."
In September, Mr Hewett will become a full time student at the RNCB where he will be studying for a different career to the one he had planned in engineering.
"I'm going to study massage and I think that's going to be good, obviously I can't do engineering with all the diagrams," he said.
At the time of the attack Mr Hewett had been studying engineering at Farleigh College in Somerset where he was recently given the newly named Jack Hewett Award for Bravery.
He said: "I can't see my name engraved and it was a bit weird because I got the loudest clap of all, that was amazing.
"I hadn't been back for a year and they still remember me."
Mr Hewett Snr said the award was very fitting: "It's been a story right from the beginning that Jack has never complained, he's just got on with it so it was well-named."
Mr Hewett said moving to Hereford from Stoke Edith near Ledbury has made life easier, especially for his social life.
"I'm still a party animal - I can definitely go to the pub, that's the main thing."