Herefordshire villagers fund wood fuel co-operative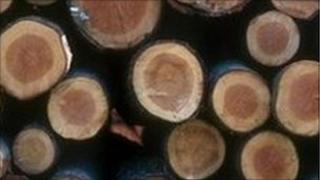 People from two Herefordshire villages have dug into their own pockets to fund a wood fuel co-operative.
People from Fownhope and Woolhope have donated £30,000 to the community wood co-operative after grant opportunities fell through.
The scheme uses locally-sourced fuel from county woodlands to power boilers for community centres and businesses from a sustainable source.
The project is supported by Sharenergy, a not-for-profit organisation.
The money from residents will enable the project to launch its full public share issue in October.
The co-operative has been set up by Fownhope Carbon Reduction Action Group.
Making a difference
Co-operative members will own and operate woodchip-powered boilers in local premises and provide fuel for them.
Gareth Williams, a founding director of the Woolhope Dome Community Wood Fuel Co-operative, said: "This investment shows a real commitment by the local community to environmental sustainability and a genuine willingness to make a difference at a local level.
"From the outset we wanted to use local woodlands to fuel local businesses from an economic, social and environmental perspective. This investment will take us a step closer to achieving our aim."
The co-operative's share offer will raise the necessary capital to purchase and install the wood-chip boilers.
Individuals, organisations and businesses will be able to invest between £250 and £20,000.
As members of the co-operative they will receive interest on their investment from the government's renewable heat incentive scheme.
Ben Dodd, the development manager for the co-operative, said: "I am delighted with the response from local people.
"We had a gap in funding due to the demise of Advantage West Midlands and the community have rallied round, dug deep and secured the necessary funds to continue."