Worcester horse race celebrates Pershore plum heritage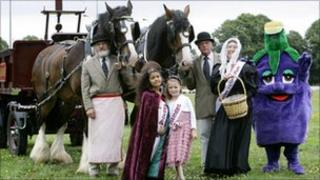 A plum-themed horse race is taking place at Worcester racecourse as part of a 112-year-old county tradition.
The month-long Pershore Plum Festival celebrates the harvesting of the soft fruit for which the area is famous.
Riders enter events named after old-fashioned plum varieties and race-goers are urged to wear purple fancy dress for The Land O'Plums Chase on Friday.
Organiser Angela Tidmarsh said: "It's heart warming to see how everyone gets involved. The whole town turns purple."
"Everything is purple, you go into shops and all the purple clothes are to the front of the racks, there's purple windows and lots of plummy things on menus."
Many British plum varieties have ripened two to three weeks earlier than usual due to the warm weather, but the festival committee said people had been ingenious about ways to preserve them to sell at the festival's grand finale on the last weekend in August.
She said: "We have plum sausages, plum cheese, plum pies, plum soaps and plum chutney being made."