River Monnow weir demolished to help fish migration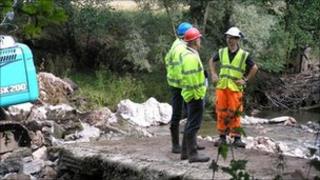 A weir in south Herefordshire is being demolished to improve fish migration on the River Monnow.
The work is part of a series of schemes run by the Environment Agency to naturalise rivers where possible and achieve Good Ecological Status.
The Environment Agency's Peter Gough said: "There are going to be more fish so more opportunity for spawning."
Robert Denny, from Monnow Rivers Association, said it had been a big barrier to migration.
'Coming up'
He said: "It's really exciting, instead of being held up here waiting for the right level of water they'll be able to have free passage."
"In a month or so time when the water starts to rise and temperature starts to drop the fish will start coming up through the weir."
The weir was originally built in the 19th Century to service a water mill downstream at Kentchurch.
The work to remove it involves taking down a 3.5m (11ft) high dam and there are plans to reinstate the river bank so the water can flow naturally.