Kington man's plans to breed miniature zebu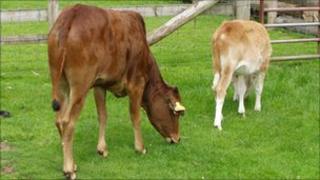 A Herefordshire man is hoping to increase the number of miniature zebu in the UK.
Jay Brittain runs the Small Breeds Farm Park and Owl Centre in Kington.
So far he has bought two of the cattle, which are the world's smallest natural breed of cow and originate from southern India and Sri Lanka.
He has ordered another female who is due to be born at around Christmas and hopes to take delivery six weeks after that.
"I am hoping that in two or three years we could have some youngsters."
When fully grown, miniature zebu measure 3 ft (0.91m) including their trademark hump on the back of the neck.
Mr Brittain said it has been a long-term ambition to bring them to the farm.
"I first saw these about 15 years ago wandering along the beaches in Sri Lanka.
"They are basically cast as cows, they are domestic animals and they are of course sacred."
'Toy cow'
Lee Catherick, based in Kent, is the UK's principal breeder and a member of the International Miniature Zebu Association.
"It's to keep the breed pure because there are different types of breeds of zebu - even in India they're getting rare so not that many of them are staying miniature."
Mr Catherick said there was no official count of cattle numbers for the breed but it is thought there are currently around 60 miniature zebu in the UK.
He also said one calf can fetch as much as £2,500 but the standard cost was £1,000.
"Here they are more of a toy cow - they're used for ceremonies in India of course but in the UK they are more ornamental."