Fownhope boy buys sheep with pocket money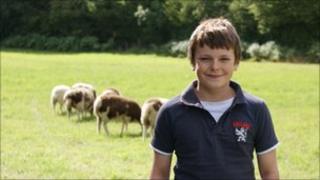 A 12-year-old from Herefordshire has bought his own flock of sheep.
Tobie Shuker, from Fownhope, saved up his birthday and Christmas money to buy the six Jacob sheep for £240 and keeps them at nearby Caplor Farm.
Although his parents are not farmers, Tobie said he has always wanted sheep: "I just find them quite relaxing and nice to watch."
He said he plans to grow the flock and keep the ewes as pets and sell the bucks for meat.
Tobie goes to the farm to look after them every day and said he still needs to learn sheep-keeping skills like hand shearing and checking their teeth.
Tobie's mother Elise, who works at Wye Leisure, said: "We're very proud that he's saved so much money and is very keen to learn."
His father Dave, self-employed and not a farmer by trade, said he is proud of his son: "Hopefully he can start to make it pay and who knows for the future."
'Very inspiring'
Gareth Williams owns Caplor Farm where Tobie rents a field for £3.60 a week to keep his flock.
He said: "It's great that at 12 he's taking an interest in agriculture - not just interested but wanting to really do it.
"There's often criticism of young people so he's a good example of someone who's taking responsibility.
"We've got quite a few young staff in their early 20s - I used to think I'm a young farmer and I'm 43 but I've been topped.
"Tobie's a very inspiring young man."
Tobie, who has always been interested in animals, said farming could be a long-term option: "I'd like to be a farmer, maybe as a hobby and have another job as well."