Bechstein's bats found in Trench Wood in Worcestershire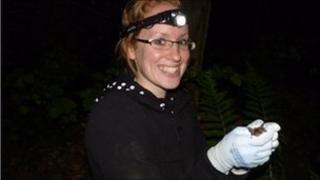 A rare bat has been found in a Worcestershire woodland by volunteers working for the Bat Conservation Trust.
Two Bechstein's bats have been discovered in Trench Wood, between Worcester and Droitwich Spa.
James Hitchcock, from Worcestershire Wildlife Trust, said: "A breeding colony has never been known this far north before."
He said Bechstein's bats are one of the country's rarest mammals and are a priority species for conservation.
The bats found in Trench Wood were a male and a young female born earlier this summer.
The Trust says this indicates that there is most likely a breeding roost in the wood.
Conifers have been cleared from the wood by the trust to allow broad-leafed trees to grow and provides a more favourable habitat for bats and other native wildlife.
Volunteers from the Worcestershire Bat Group received special training as normal survey methods have not been successful in locating Bechstein's bats.