Herefordshire apple links celebrated with free trees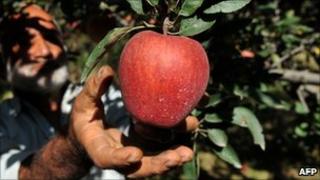 A council is inviting community groups to plant apple trees to celebrate Herefordshire's orchard heritage.
Herefordshire Council is marking the 200th anniversary of the publication of Pomona Herefordiensis by giving out three types of local variety trees.
The book is thought to be the first scientifically based, colour illustrated Pomona, or book of apples.
It was written by Thomas Andrew Knight, an eminent horticulturist who was from the county.
'Wonderful opportunity'
The council bid for a grant from the Big Tree Plant Fund and worked with Trees for Life nursery to grow the trees.
They are being supplied in 70 packs of three trees - Downton Pippin, Stoke Edith Pippin and Herefordshire Russet.
Community groups are being invited to apply for one of the tree packs, to be planted on publicly accessible land.
James Bisset, principal countryside officer, said: "This is a wonderful opportunity for community groups to reconnect with Herefordshire's orchard heritage by planting a collection of local variety apple trees."
The closing date for applications is 14 September.