Juggling roles as Offenham's postmistress and priest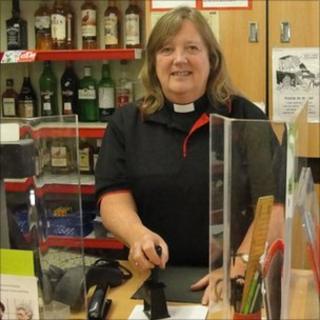 A Worcestershire woman has been talking about her work as both a priest and a postmistress in the local parish.
The recently ordained Rev Anne Potter is combining her two roles at the post office in Offenham near Evesham and as the curate at St Mary & St Milburgh.
She also looks after the churches at Badsea and Bretforton.
"It's about being approachable, showing God's love and letting God talk to people through you whether it be in church or behind the counter.
"It gives one such a wonderful opportunity to share the good news with people as they come in, through actions and not just words," she said.
Ms Potter there are times when she can do some ministry work over the counter but she has chosen to wear her dog collar only on Fridays at the post office.
She said: "Some people aren't quite sure how to take it, others are quite surprised to see me.
"Somebody has said: 'Oh you are a lady of many disguises'."