Kempsey flood defence work starts after skeletons moved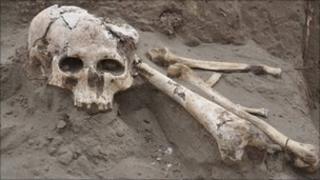 Flood defence work in a Worcestershire village can begin after the removal of 40 medieval skeletons found on the site.
The remains were discovered in July when work began to build a 180m (588 ft) long earth embankment in Kempsey.
The bones are to be examined by specialists and samples radio-carbon dated to confirm their age.
The Environment Agency said they hoped the bones would be reburied in the village at a future date.
A sod cutting ceremony to mark the official beginning of the £1.5m project will be held on Friday.
Kempsey has been flooded 23 times in the past 30 years, with 150 houses and businesses being affected in the flash floods of July 2007.