Worcester arena gets donation from Clive Richards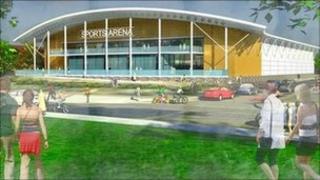 A Herefordshire philanthropist has donated £25,000 towards the cost of a sports arena planned in Worcester.
Clive Richards is a fellow of the University of Worcester, which is planning to build the arena on the site of the city's old fruit market.
Mr Richards said: "Sport in all its various forms is very much part of education."
Sports governing bodies, charities and trusts have promised more than £2m towards the cost of the project.
More than £70,000 has been raised from individual, family and team donations.
The building will be environmentally sustainable, including solar panels on the roof.
The Clive Richards Charity, established in 1987, specialises in helping educational establishments in both the public and private sectors.
Prof David Green, University of Worcester Vice Chancellor, said: "This comes on top of another generous donation from Clive to fund 100 new scholarships at the university."