Sophie Tothill from Worcester gets an A* in GCSE maths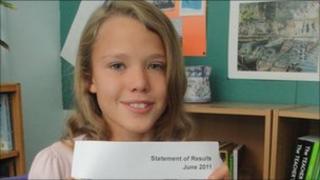 A 12-year-old Worcestershire girl has been awarded an A* in GCSE maths.
Sophie Tothill, a pupil at Bishop Perowne Performing Arts College, Worcester, said: "I'd quite like to be a maths teacher."
Head teacher Julie Farr said Sophie will now be doing a transition A-level course alongside year 11 pupils.
"We will also be looking at masterclasses at Worcester Sixth Form College and at our partner school, Kings Independent School," she said.
Sophie's maths teacher, Mike Walsh, gave her extra lessons once her abilities were spotted.
"We came in for several months having lessons at about seven in the morning and after school sometimes.
"Sophie has managed to get through the entire course and get an A* grade in year 7," he said.
Sophie's father, Steve, praised the extra help the school has given his daughter.
"We always knew she had it in her because since an early age she's always enjoyed and loved maths," he said.