Bore holes in Herefordshire affected by lack of rain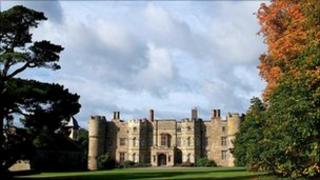 The dry summer has affected businesses and homes in Herefordshire that use water drawn from bore holes or springs.
Croft Castle, an estate run by the National Trust, has brought in portable toilets to reduce the amount of spring water used.
Ian Grafton, the property operations manager, said: "If levels are looking a little bit low before we pump again we open the portable toilets."
He believes it will be some time before the water table recovers.
'Sucking up air'
"It's been such an unbelievably dry year so far and the water takes so long to get back into the water table that the spring is unbelievably low," he said.
Jan Foyle, of Mortimer's Cross, who gets her water from a bore hole, said: "There are two 20-gallon tanks in the roof and the pump comes on when the float goes down, but my husband keeps having to go and switch it off because it's just sucking up air."
They have been buying bottled water and cutting the amount of water they use around the house.
Welsh Water said it did not envisage any restrictions on water use for people who get their supplies from the mains.
A spokesman said: "We are confident that we have enough water in our reservoirs for the remainder of the summer and autumn."