Hereford High Town fire damaged shops could open in 2012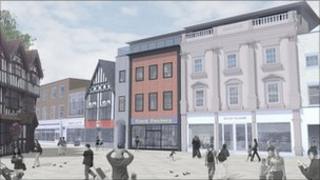 Shops damaged in a fire in Hereford should reopen in time for Christmas 2012 if plans are approved.
One store was completely destroyed and two others badly damaged by the fire in High Town last year.
Chris Woodall, from architects Hook Mason, said: "It's important that we try to create something visually interesting and sympathetic to the surroundings."
The firm's design has been submitted to Herefordshire Council for approval.
Mr Woodall said they had liaised with the council and English Heritage over how the new building would fit with High Town.
"It's not necessarily a traditional facade - it's very much a representation of buildings of the 21st Century as opposed to the 18th or 19th Century which most of the facades in the town date from," he said.
The original facades of the two shops damaged in the fire would be restored under the proposed plans, together with the passageway that ran to the historic Booth Hall behind the shops.
The rebuilding would also allow some of the upper floors to be used for residential accommodation.
Mr Woodall said: "I know it's something that the local authority were keen to see to really breath a bit of life back into the city centre by having people working here and living here."
The amount of retail space available would also be increased if the plans are approved, by extending the buildings and using the first floors.
Building work is expected to start next month subject to approval.