Delayed Kempsey flood scheme under way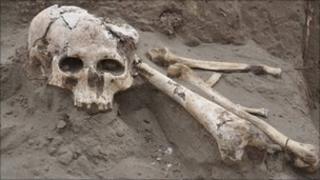 Work has started on a delayed flood defence scheme in Worcestershire after the removal of 40 medieval skeletons found on the site.
The remains were discovered in July when work began to build a 180m (588 ft) long earth embankment in Kempsey.
The town has been flooded 23 times in the past 30 years and a sod-cutting ceremony on Friday marked the beginning of the £1.5m project.
It is hoped the bones will be reburied in the village.
The bones are to be examined by specialists and samples radio-carbon dated to confirm their age, the Environment Agency has said.
More than 150 houses and businesses were affected in the flash floods of July 2007.