Ex soldier finds Latvian half-brother after 65 years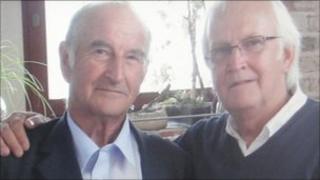 A former soldier from Herefordshire said he was "very emotional" after the Red Cross put him in touch with the half brother he had never met.
Andy Valters' family were displaced from Latvia to Germany after World War II.
He was fostered by an English family when he was nine after his mother died. His father, Bernard, stayed in Germany.
Bernard Valters only visited England once before he was killed in a car crash.
Andy Valters learned he had a half brother Egon when he talked to his father's third wife.
Egon Valters was born to Bernard's first wife and Andy to his second wife.
Mr Valters said: "It was very emotional - as one would expect after 65 years - not knowing I had a brother, to actually meet him."
He learned that Egon, who is 14 years older than him, had tried to trace him in the past.
"For some reason my father never gave my brother my name or date of birth.
"Shortly after that my father was killed. My brother tried to locate me but without the correct information the Latvian Red Cross were unable to find me," he said.
'Security checks'
After his father was killed in 1965 Mr Valters received a letter from Germany and a photograph of a woman and twin boys.
But he said: "I was in the special forces so I wasn't able to contact anyone that hadn't been checked by the security services.
"When I left the services, so much time had gone by that I left things - I didn't want to upset the apple cart."
After he had left the forces his daughter persuaded him to try and get in touch with the German side of his family.
In 2010 the German Red Cross traced Bernard Valters' widow and put her in touch.
It was then that he learned he had a half brother still living in Latvia. It was another year before he could travel there to meet him.
"He showed me where my father, his mother and himself lived in a terrace house - it still exists after the bombing in 1944," he said.
The meeting helped him appreciate how fortunate he has been, compared to his half brother.
"The life I've led compared to some of the people who were displaced means I have no quarrels," he said.