HMS Ledbury crew exercise freedom of the town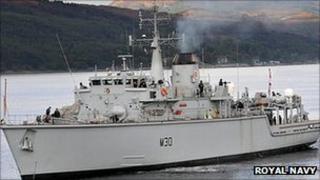 The crew of HMS Ledbury have marched through the town to mark 30 years since the warship was commissioned.
It was the first time the sailors had exercised their right to march through Ledbury after being given the freedom of the town in 2007.
The town's mayor, the Lord Lieutenant of Herefordshire and Royal British Legion members watched the march.
The hunt class warship performs a hunting and minesweeping function within the Royal Navy.
It cost £65m to build and was the most expensive warship per metre in its class at the time.
It hunts for mines using sonar and sweeps for mines by trailing sweep wires behind the vessel and can simulate a ship's magnetic sounds to safely detonate mines on the seabed.
The sailors paraded from 11:00 BST from Lawnside Road to the High Street.