Blanche Parry calendar boosted by Royal Collection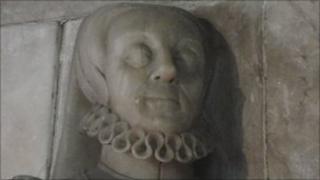 The Royal Collection has waived its reproduction fee on a picture of Elizabeth I being used in a calendar raising funds for a church.
The limited edition calendar celebrates Blanche Parry, who was a close confidante of the queen for 56 years.
Money raised will go to the Parry family church at Bacton, Herefordshire, which contains a memorial to Blanche.
Historian Ruth Richardson said: "I call it Blanche's bounty, and I really hope it will benefit the church."
Parry was Chief Gentlewoman of Queen Elizabeth's Privy Chamber and Keeper of Her Majesty's Jewels.
Mrs Richardson said: "We know that she controlled access to the queen, she was in charge of the queen's jewels which were immensely valuable.
"She also channelled letters to the queen and answered letters on her behalf and she even channelled Parliamentary bills to the queen."
When Parry died, aged 82, Elizabeth paid for the cost of her burial at St Margaret's Church, Westminster.
The memorial to her in the church in Bacton dates from 1577.
Mrs Richardson claims it displays the earliest known depiction of Queen Elizabeth, as the icon Gloriana.