Company boss watched events of 9/11 unfold around him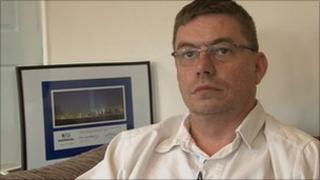 Software business owner Andrew Philpott was having breakfast in his hotel on the morning of 11 September 2001.
He was looking forward to a meeting that would launch the US arm of his firm.
But the meeting would never take place - the building he was in would be destroyed as debris and aviation fuel rained down from above.
His hotel room was on the seventh floor of the Marriott World Trade Center which was connected to both the North and South towers. Its address was 3 World Trade Center.
"We were having breakfast downstairs in the restaurant," said Mr Philpott, who lives in Worcestershire.
"A loud bang went off and somebody shouted 'It's a bomb'."
The restaurant has a glass roof and as Mr Philpott looked up he saw debris and aviation fuel running down the side of the North Tower.
The debris smashed through the roof of the restaurant forcing people to take cover under tables and behind pillars.
Mr Philpott telephoned his wife in England to tell her that a bomb had gone off but that he was safe.
His wife then told him it was not a bomb, but a plane.
"I turned around and saw the second plane hit the tower," he said.
"Rumours were flying around that it was a terrorist attack and at that stage we decided we didn't want to be in the vicinity."
Mr Philpott and his three colleagues started to make their way towards his office in Wall Street.
'People jumping'
What he saw next, he said he would never forget.
"What sticks in your mind is the people jumping from the building.
"That's something that will never disappear."
Since 9/11 Mr Philpott has regularly been back to New York for business.
He said he visits Ground Zero when he is in the city and has become involved in a memorial programme to sponsor the rebuilding of the site.
He is also a member of a Marriott Hotel 9/11 memorial group which enables him to keep in touch with others who were in the hotel on the day.
Ten years on he still thinks about how different things might have been.
"It's a cliché but you realise life can change in a moment.
"Ten years is a long time and it's starting to fade but some images will never disappear."