9/11: Patricia Sabga reported as the Twin Towers fell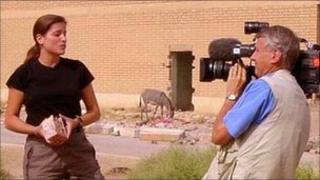 Patricia Sabga was the chief business correspondent for CNN on Wall Street the day the Twin Towers were attacked.
She was reporting live 300 yards (270m) away from the towers when they collapsed, and had to flee for her life.
Ms Sabga's abiding memory is of standing in the aftermath and realising she was covered in "the ashes of the dead".
After 9/11 she "traded in my Armani suits for a flak jacket" and began reporting from the world's conflict zones.
On that day she had been told that a light aircraft had crashed into one of the Twin Towers and had no idea of the seriousness of what had happened as she made her way to Lower Manhattan.
"The atmosphere at the time was very surreal - you had these incredible infernos blazing in the sky and yet on the ground you had people walking very calmly, very orderly, and the police ushering people away from the scene," she said.
As she got closer to the World Trade Center when she was stopped by a policewoman who told her that two aircraft had crashed into the towers and that the city was "under attack".
Stampede
Ms Sabga, who now lives in Worcestershire, was about to go on the air with this information when the situation changed dramatically.
"While I was waiting all of a sudden the ground began to tremble -I've never been in an earthquake but it must be what one feels like.
"People started to scream and it was like a scene out of a horror movie - it was literally a stampede of people trying to get away from the Trade Center.
"For a split second I thought, 'Oh my God, I've made a huge mistake, I'm going to be killed by flying debris'.
"I turned and I started running, and as I was running the cloud came in and there was this black curling cloud of night moving over you.
"It was so dense that you literally could not see the hand in front of your face," she said.
As she groped her way through the cloud she saw a light, which turned out to be a doorway being held open by a "Good Samaritan" who was pulling people into a building.
She found a phone in the basement and was describing what had happened live on the air when the phone was dragged from her hands by other survivors wanting to tell relatives they were still alive.
'Ashes of the dead'
Leaving the chaotic scene in the basement she went back outside in the hope of finding a pay phone.
Ms Sabga said: "The scene that I emerged to was like something from a 1950s post-nuclear apocalypse movie.
"Everything around me was just covered in white ash and it was still falling from the sky like snow.
"Not a lot of people were on the street and they were just walking around completely traumatised.
"I found a pay phone and as I was standing there with the ash falling on me it suddenly occurred to me, 'Oh my God I am covered in the ashes of the dead'.
"As I was trying to file my report a policeman ran towards me shouting, 'Get inside, get inside the other one is about to fall'.
"This time I didn't stick around to watch it fall, I just high-tailed it inside and hunkered down."
After her experiences on 11 September she knew she could never go back to "using battle metaphors" while reporting from the floor of the stock exchange.
"I wanted to go to the actual conflict zones and see how things were going to pan out.
"So I traded in my Armani suits for a flak jacket and I headed off to first Pakistan, then Afghanistan, and then the West Bank to cover the second intifada."
She met her partner, the former SAS soldier and best selling author Bob Shepherd, while reporting from a roof top overlooking Yasser Arafat's compound. He was providing security for a rival TV network.