Kidderminster protest over plans to change NHS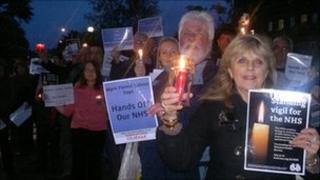 More than 50 people have held a candle-lit vigil outside Kidderminster Hospital to protest against proposed government changes to the NHS.
The demonstration was staged on the day the Health and Social Care Bill 2011 was passed in the House of Commons.
Labour Wyre Forest councillor Barry McFarland said the bill would mean "the death of the NHS as we know it".
But Conservative MP for Wyre Forest Mark Garnier said the changes would improve healthcare.
"This is introducing a system that will be able to give a better service for people across the Wyre Forest," said Mr Garnier.
Under the reforms, GPs and other clinicians in England would be given much more responsibility for spending the budget, while greater competition with the private sector will be encouraged.
'Privatisation for profit'
Mr McFarland, who organised the demonstration, said: "If passed and if acted upon we think it will be the death of the NHS as we know it, and we also want to raise awareness of this bill going through.
"Privatisation [would mean] procedures at hospitals and clinics will be for profit and not necessarily for the good of the person who needs them."
Mr Garnier said: "This isn't privatisation - there have been private providers in Kidderminster for years and the local GPs have set up a consortium."
Mr McFarland said there would be protests in the future from people living in Kidderminster who are against the plans.
He said: "We want an organisation that's driven by providing healthcare free at the point of need - as the National Health Service has done for the past 63 years.
"It's going to get passed but this is the beginning of our action here in Kidderminster."
The bill will now be considered by the House of Lords.