Servicemen's names chosen for Pershore streets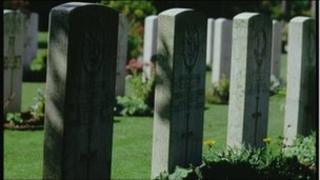 A Worcestershire council has chosen the 10 servicemen who will have streets named after them on a new estate.
Wychavon District Council chose 10 of the 74 servicemen buried in a cemetery next to the estate in Pershore.
Six are members of the Royal Canadian Air Force (RCAF) who lost their lives in or near Pershore during the World War II.
Another is an Australian airman and the remainder will commemorate British servicemen buried in the cemetery.
Councillor Judy Pearce, from Wychavon District Council, said: "I am delighted that these new roads are to be named in honour of some of the men who gave their lives to preserve our freedom.
"These new roads will be a memorial to all of them and a constant reminder of their sacrifice."
Training base
RAF Throckmorton, near Pershore, was used as a WWII aerodrome and many Canadian air crews were trained there.
Of the 74 war graves in Pershore cemetery, 64 are for airmen, 41 of whom were Canadian.
One of those chosen to have a street named after him is Flying Officer Graham Hynam from the RCAF, who died when his Wellington bomber crashed while taking part in a fly-past over Pershore.
The aircraft crashed into the Brandy Cask Hotel in Bridge Street.
Pershore Town Council originally wanted the streets named after varieties of plum, the fruit the town is known for.
Wychavon District Council overruled the choice, saying it was more important to honour servicemen than fruit.