Croome Court's chimney's restored using £30,000 legacy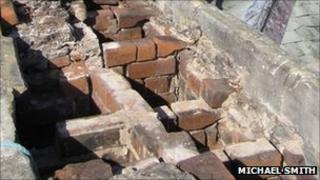 The decaying chimneys of a stately home in Worcestershire are to be repaired using a £30,000 legacy.
Keith Mitchell, who will carry out the work at Croome Court, said: "After years of neglect and failed repair work the chimney flues and chimney stacks have seen better days."
Fireplaces in the dining room and butler's pantry will be usable again after the work is completed.
The National Trust is spending £10m restoring the house and grounds.
The work will initially involve clearing huge blockages of twigs and other debris from the flues.
After that collapsed brick work inside the chimney stacks will be restored.
Amy Forster, House & Visitor Services Manager, said: "We hadn't planned on carrying out any more work to any chimneys as we're completely reliant on funding and donations to restore the house.
"Thanks to another legacy we were able to choose two more flues to restore."
Croome Court was the first of more than 200 completed works by the famous architect and landscape designer Lancelot Capability Brown.