Herefordshire vicars canoe 50 miles to visit churches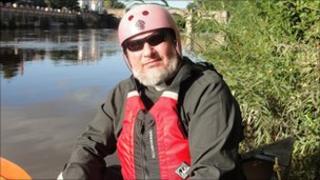 Two Herefordshire vicars are visiting 10 churches by canoeing 50 miles along the River Wye.
Kevin Cecil and Simon Mondon hope the three day trip will draw attention to their work in their parishes.
Mr Mondon said: "We are missioners to the church through Christ and not undertakers to the church."
They set off from The Bishop's Palace in Hereford on Wednesday, paddle to Bishopswood on Thursday and aim to finish at Dixton on Friday.
Mr Cecil is the vicar of Dixton With Wysham, Bishopswood, Whitchurch and Ganarew and Mr Mondon is the vicar of Goodrich and Marstow.
The culmination of the trip will be a service at Mr Cecil's church on Sunday, his first since returning from a three month sabbatical.
Mr Mondon said taking time out to travel 50 miles through their parishes along the river - as opposed to 15 miles by road - is a challenge but hopes it will give them a different perspective.
"We rush in our journeys of life from one place to another very quickly - this will give us time just to be rather than to do," he said.