Owl sculpture in Kidderminster park stolen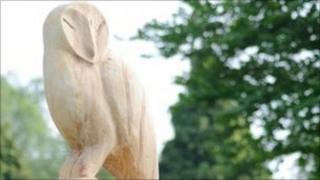 An owl sculpture in a park which was carved from a tree stump in front of members of the public has been stolen.
It was taken from St George's Park in Radford Avenue, Kidderminster, Worcestershire, on Tuesday evening.
The Friends of St George's Park secured money from Elmey Small Grants Art Fund to commission an artist to turn two stumps into sculptures, police said.
Owl and squirrel sculptures were carved at a fun day attended by more than 1,000 people in April.
The owl sculpture was carved from the trunk of a damaged silver birch tree that was cut down.