Worcester city centre disabled parking protest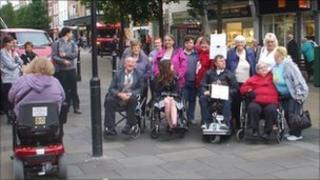 Blue badge holders have staged a protest in Worcester city centre after disabled parking spaces were replaced with a taxi rank.
Ron Chambers, from Worcestershire Pensioners Action Group, said the lost bays in St Swithins Street were the most convenient for the city centre.
"It's very difficult for [disabled people] to park elsewhere," he said.
Simon Geraghty, from Worcester City Council, said there would be "no net loss" of city centre disabled bays.
He said 11 new bays were being created to replace the ones in St Swithins Street.