Iran embassy SAS man John McAleese has cathedral funeral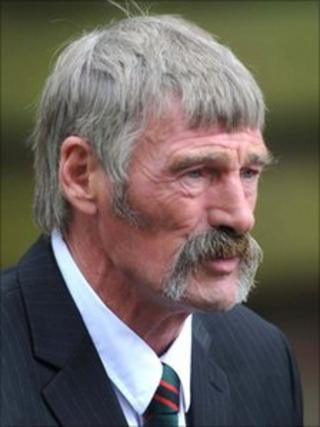 The funeral of ex-SAS soldier John McAleese, who helped end the Iranian embassy siege in 1980, has been held at Hereford Cathedral.
Mr McAleese, 61, died of a suspected heart attack in Greece last month.
His team ended the six-day siege by storming the embassy and rescuing 24 hostages from gunmen.
His daughter Hayley, 28, said she hoped her father had now been reunited with his son, a soldier who was killed in Afghanistan in 2009.
Pall-bearer Rusty Firmin told mourners the large turn-out showed exactly how many people respected "John Mac" as a friend, soldier and a man.
Mr Firmin, who also took part in the operation at the Iranian Embassy, described his friend as "an icon and a legend and a hero".
He said: "He was a very funny professional soldier.
"He wasn't the smartest soldier I have ever met, but actually he was one of the most effective soldiers I have ever met."
Millions of television viewers watched SAS teams, dressed in black, storm the building in London on 5 May 1980 to end the siege.
Six Iranian separatists had taken over the embassy and were demanding the release of 91 political prisoners held in Iran, as well as an aircraft to take them and 26 hostages out of the UK.
SAS operation
The then Home Secretary William Whitelaw ordered the SAS attack after the gunmen shot dead Iranian press attache Abbas Lavasani and dumped his body outside the building.
During the SAS operation, five of the gunmen and one of the remaining hostages were killed.
Hayley McAleese said her father, who went on to present the BBC show SAS: Are You Tough Enough?, never got over the death of his son.
Sgt Paul McAleese, 29, was killed by a roadside bomb in Afghanistan in 2009 as he went to help a fatally injured colleague.
Ms McAleese said she was "blessed to have had two great men in my life".
She added: "I just hope that he's up there with my brother, two great heroes taking their place in heaven."