Christopher Grady police officers given bravery awards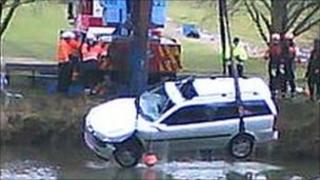 Two police officers have been given bravery awards for saving a drowning boy whose father had deliberately driven a car into a river.
Sgt Phil Stayte and Insp Sean Kent were first on the scene after Christopher Grady drove into the River Avon in Evesham with his son and daughter.
Insp Kent said: "I remember thinking that I would like someone to help my little boy in this way."
Both officers have been given certificates of commendation.
Insp Kent jumped into the river to save Ryan Grady after attempts to reach him with a line thrown from the bank failed.
Five-year-old Gabrielle Grady was trapped in the car for two hours and died three days after the incident in February 2010.
Christopher Grady was convicted of murdering Gabrielle and attempting to murder Ryan, then aged six.
He was jailed for life at Birmingham Crown Court and told he must spend at least 15 years in jail.