British Waterways charity 'positive for West Midlands'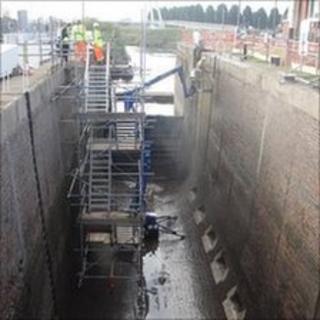 People living in the West Midlands will soon be able to get more involved in the region's locks and canals, according to the chairman of the Worcester and Birmingham Canal Society.
David Wheeler was speaking in Worcester at the launch of a new £50m repair programme by British Waterways.
The scheme comes ahead of the group becoming a charitable trust next year.
But Mr Wheeler said he had concerns about it being responsible for the British Waterways' pensions fund.
He said: "The new charity shouldn't have a big noose around itself like that from day one - if they do start to run out of cash there will be all sorts of problems.
"The new charity is also taking over the property portfolio, that needs to be carefully monitored."
The organisation is currently funded by government grants and income from commercial activities.
From April it will need to secure government contracts and seek charitable donations.
'Positive move'
Mr Wheeler said money, manpower and sustainability of the trust could become an issue, adding: "The government needs to make sure that the new charity is funded properly because they're going to be fighting for a lot of money that other charities are fighting for."
However he said he had always been in favour of the change of status and thought it was a positive move for British Waterways.
"It will be a good idea - I've always felt that - it will give local people the opportunity to work with the new trust management team and get involved," he said.
"Local people will be able to get more involved and have their say where the money should be spent how it should be spent," he added.
British Waterways' communications director Simon Salem said: "The charity's going to make the waterways more financially sustainable.
"This is a once in a generation opportunity - we get to have a long-term contract with the government, we get to keep our properties and we get the opportunity to work with more volunteers.
"We've been here 250 years, we want to be here in another 250 years' time."
The six-month national maintenance programme will refurbish much of the 2,200 miles of inland waterways that British Waterways currently looks after.
It also includes the replacement of more than 100 hand-crafted British oak lock gates, which can each take up to 20 days to make.
Diglis Locks, the only pair of locks on the River Severn and one of the country's deepest, are two of the first to be repaired.
About £600,000 is being spent to drain and clean both the small lock, which takes two weeks, and the larger one, which will take three weeks.
Elsewhere in the Midlands, the lock gates at Ryder's Green, Smethwick and Farmers Bridge in West Bromwich and Birmingham are being replaced and refitted during November and December.