Animal Search UK: Herefordshire's own pet detective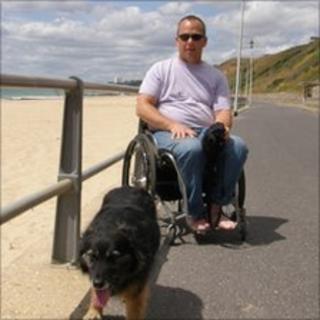 When Einar Russell's dog Jazzer went missing in August, it was both an emotional and physical blow.
Mr Russell, from Hereford, was given the 10-year-old collie Alsatian cross by some friends after he was injured in a car accident seven years ago. He has been wheelchair-bound ever since.
He describes her as a friend, and to some extent his passport to a social life, as taking her for a walk gets him out and about.
Her disappearance from outside Tesco in Belmont on 18 August left him so heartbroken, he decided to enlist the help of a pet detective agency to try to find her.
"It's the companionship - she gets me out and about. If not I sit all day inside but since then I haven't been out and about much," he said.
He went to Tom Watkins and his team at Animal Search UK, a Herefordshire-based company offering a pet search service.
Peacocks and parrots
The company was set up five years ago by Mr Watkins, a former police officer from Wolverhampton, who started animal rescue searches as a hobby in 1999.
"We have a mixture of full time and part-time staff - there's 14 of us altogether. The office staff design posters for owners in Hereford and we have a call centre.
"Our missing pet search team is made up of people who work ad hoc, as and when we need them to go out on searches - on average they go out twice a week."
Staff go out in uniforms and marked vehicles to carry out investigations for missing pets, ranging from cats and dogs as well as peacocks and African grey parrots.
The team of trained pet detectives travel the length and breadth of the UK, from Cornwall to north-east Scotland, where in 2009 they were employed by singer songwriter Sandi Thom to find her missing cat, Toots.
"Some cases are solved and the missing pets are found within 10 minutes, others can take days, months or even years," said Mr Watkins.
Waiting game
The scale of the search depends on how much clients are willing to pay.
"If the owner is within 100 miles of our base in Hereford, it costs £225 plus expenses to hire a pet detective for a day - if it's more than 100 miles it costs an extra £50," Mr Watkins said.
Gerald and Lisa Francis, from Cumbria, recently paid £1,000 for Mr Watkins and his team to search for their missing 15-year-old Siamese cat, Cloudy.
For clients like Mr Russell, who cannot afford to pay such costs, Mr Watkins is willing to waive the bill but admits this means the team has to cut back on the time they spend searching for the pet.
"We're doing it as a favour - he can't afford to use our services so we said we'd step in as a local company and help out a member of our community," he said.
"Normally in cases like this searches are carried out in one or two days, including between five and 15 hours of door-to-door inquiries.
"But we're not a charity and can't afford to be out of the office for that long unpaid - so we've been helping over a number of weeks," he explained.
Even after six weeks, Mr Watkins is optimistic further searches will help generate some leads on the hunt for Mr Russell's dog Jazzer.
"The longer the search goes on, the less chance there is but we're going to review where we're at so far in Jazzer's investigation," he said.
Mr Russell said he is playing a waiting game, but is slowly resigning himself to the possibility Jazzer might not come home, especially given a number of sightings that have turned out to be false.
"Normally she's always around me and now she's not there - slowly you get used it. Miracles can happen, so you can only hope."